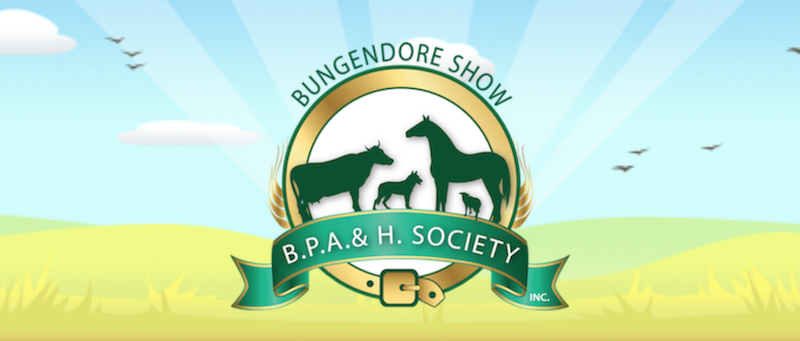 Bungendore Community Bank 2017 Bungendore Show
Sunday 29 January – from 9.00am
OFFICIAL SHOW WEBSITE: https://www.bungendoreshow.com.au
One of the best things about the Bungendore Show is that once inside the gates, the majority of the entertainment is supplied for FREE.
There are many different styles of entertainment at the Bungendore Community Bank 2017 Bungendore Show with something guaranteed to suit all ages and interests. This year's entertainment includes:
Light Horse Display and 18 Pounder Artillery;
Vintage cars;
Heritage machinery;
Reptile display;
LIVE MUSIC from 11am till 230pm.
Sue Wilmington Clicker Training;
Kate Fenner will discuss "Bringing Your Horse Back Into Work and Noseband Fitting";
Sheep dog and yard dog trial demonstrations;
Flyball – with the opportunity to have a go;
Come and try Archery display from Monaro Archers (yes you get to shoot an arrow);
Troppo Bob the Comedy Magician;
Cartoon portraits;
and as always there will be free face painting for the kids.
TRACTOR & STEAM DISPLAY
Step back in time and experience the days of early Australia through the beautifully restored artefacts and equipment from early colonial settlement and farming. Everyone loves to stop and see the old machinery chugging along. This area is a true celebration of our local area, with dedicated volunteer groups of restorers keeping our farming history alive.
BUNGENDORE RURAL SERVICES DOG HIGH JUMP
This exciting competition is open to ALL dogs, and allows them to demonstrate their awesome upward mobility skills. Select your starting height as high as you dare. Watch your dog skitter, scrabble, glide and bounce over the jumps. Feel free to curse, bribe and cajole them, but no touching!! And don't fret if they don't make it over the first time, remember you get another go.
Two jumps operate – SMALL DOGS (under 30 cm) and the OPEN EVENT (min. starting height 90cm).
FLAT CHAT DOG RACE
Come on – take your best friend in the flat chat dog race at the Bungendore show!!! Who will be the fastest dog at the 2017 Bungendore Show? It's sO much fun – DON'T MISS IT!
PAVILION
This year's Pavilion theme and display will be a celebration of water and the filling of the lake. Most sections have a category where works can be submitted around this theme and we will have a wonderful exhibition from local photographer Susan Clarke.
Be part of the show by entering something in the Pavilion on Saturday 28 January from 9am to 12 noon – categories include Art, Handicrafts, Photography, Needlework, Cookery, Vegetables and Fruit, Farm Produce, Flowers, Wool, Alpaca Fleece, Jams, Pickles and Preserves and Home Brew Beers & Wines.